>> More success stories with MOG Ärztevermittlung
---
MOG Ärztevermittlung success story:
An ambitious Syrian doctor makes it to German licensure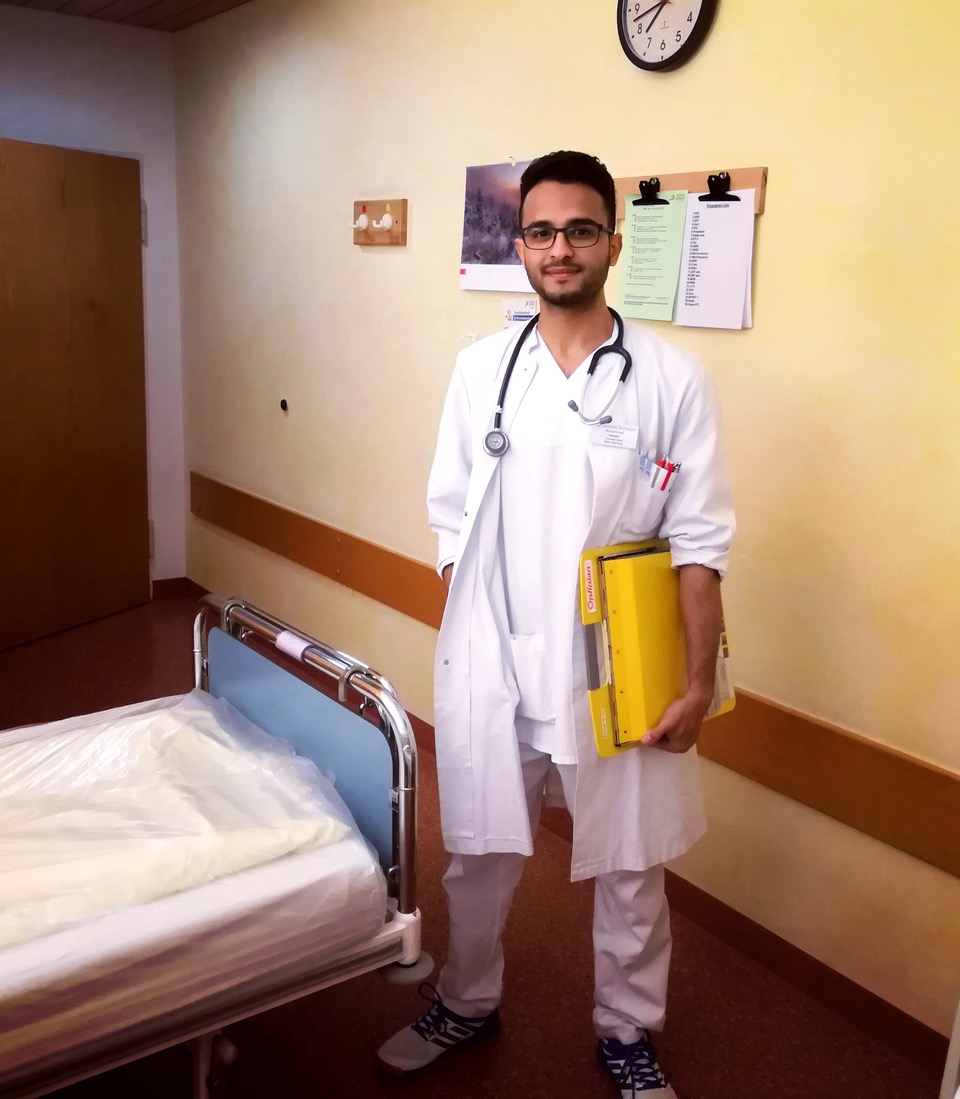 Mr. S. is from Syria and is a very ambitious person. In 2015, he graduated with honors in human medicine in Damascus, Syria, and already during that time he co-wrote two medical school textbooks, which were also published. In addition, Mr. S. is also active as a volunteer. After his arrival in Germany, he was a helper with the Malteser and worked as a volunteer interpreter. Mr. S. completed an internship at a university hospital in Baden-Württemberg in the fields of gastroenterology, hepatology, and infectious diseases and then, in July 2017, received his German license to practice medicine from the Regional Council of Stuttgart.
1. Mr. S., first of all, congratulations for your remarkable career in Germany! It has been a very long and arduous journey for you, from Syria to here. How did you get to Germany and how did you feel about it?
The way from Syria to Germany was not very nice. Honestly, he was really bad. I traveled together with my cousin to Germany. That made my journey more bearable, because you always had someone familiar by your side. We came to Germany in November 2015 via the old Balkan route. My cousin is also a medical doctor and recently received his German license to practice medicine as well. We traveled by all means of transportation: by bus to Lebanon, by plane to Turkey, by boat to Greece, and from there by trains and buses to Stuttgart. We were on the road for about two weeks, which is still very short for this distance. I know people who took about 6 months to do it. When we finally reached Germany, we got into an emergency shelter in Stuttgart, where we were allowed to stay for four weeks. In total, my cousin and I were in three refugee shelters. In the last one we were then even housed for 6 months.
2. A really long way for you, Mr. S. You did a lot of volunteer work during your stays in the various refugee shelters. How did you come to this and could you already speak German at that time?
Yes, exactly. I started 6 months before my trip to Germany to learn German up to level B1 with a Syrian teacher who had already lived in Germany for 15 years. Therefore, I already knew the German language a little bit when I arrived here.
. In the first emergency shelter in Stuttgart, I immediately went to the director of the shelter, introduced myself as a doctor and said that I would like to work here and help. There was a small practice in the shelter, where I was allowed to work as an interpreter right away on my second day. My cousin and I were allowed to stay for 6 weeks in the second shelter, where we were also able to apply for asylum. There I worked as an interpreter in a vaccination practice. After these 6 weeks, we were then moved to a larger shelter with really a lot of people. There we were accommodated for 6 months. Here I also helped with interpreting and accompanied the other residents on visits to authorities and hospitals. The head of the accommodation was so pleased with my work that he offered me to attend a B2 course in Tübingen. Of course, I was very happy about that and I accepted very, very gladly. I then had language classes 3 times a week.
When I finally received my papers from Syria and my residence permit, I looked for a shared room near Stuttgart. I then also found, a totally nice and multicultural WG. There I then completed my B2 language certificate.
3. And how did your path go from there to your license to practice medicine?
When I had passed my B2 language certificate, I applied for an 8-month preparatory course for the specialist language and knowledge exam in Stuttgart. There I was also taken directly. The course was divided into preparation for the FSP, an internship and preparation for the knowledge test. A particularly large advantage of this course was to know that one will take its knowledge examination after 8 months and not still ewig for a date to wait must.
. Of course, the path to obtaining the license to practice medicine was not easy, but we had good professors who prepared us very well. So could go wrong with the exams as good as nothing :-)
4. What happened next for you? Did you apply to MOG directly after your license to practice?
I came across MOG very soon on the Internet, applied directly and then everything went really very quickly. Already 5 days after my first call I had my first interview. I went to the clinic for the interview and was totally impressed. The head physician and the whole team were so nice and friendly. I was offered the job and I didn't hesitate and accepted, even though I had two more interviews open that I then canceled. The attending was super nice to me and offered me a room at your mother-in-law's house, since finding an apartment is usually problematic. I am totally well taken care of and the way to work is not longer than 5 minutes. It could not have gone better for me.
5. We are very happy for you! So are you happy with your new job and your new home?
I feel really very comfortable in my new home and with my job here in Germany. I always wanted to work as a doctor in Germany, so I was happy to take on this long journey.
And not to forget: I was so satisfied with your service that I immediately recommended you to an acquaintance!
Dear Mr. S., thank you very much for the nice and exciting conversation. We, the MOG team, wish you much success for your further professional future. All the best. We will be happy to support you further.
Many doctors m/f/d found their dream job in Germany with the support of MOG Ärztevermittlung.
Are you also thinking about finding a new job as a doctor m/f/d?
But you have too little time to seriously look for it?
As a physician m/f/d looking for a job that suits you, you can register in the MedicalTalentNetwork without obligation and free of charge. Your recruiting expert m/f/d will get in touch with you as soon as he/she has one or more job offers for you that match what you are looking for.
MOG Ärztevermittlung supports physicians m/f/d in finding a job in Germany. The recruiting experts m/f/d of the recruitment agency use the Germany-wide network of clinics, hospitals and rehabilitation facilities as well as many other companies in the healthcare sector to place you in a job where you feel comfortable.
This extensive network exists because MOG Ärztevermittlung is a subsidiary of MCM Media Consult Maier + Partner GmbH, which has been advising the majority of clinics in Germany as an agency for personnel marketing, recruiting and personnel placement in the healthcare sector since 1991.