>> More success stories with MOG Ärztevermittlung
---
MOG Ärztevermittlung success story:
An Indian doctor puts down roots in Germany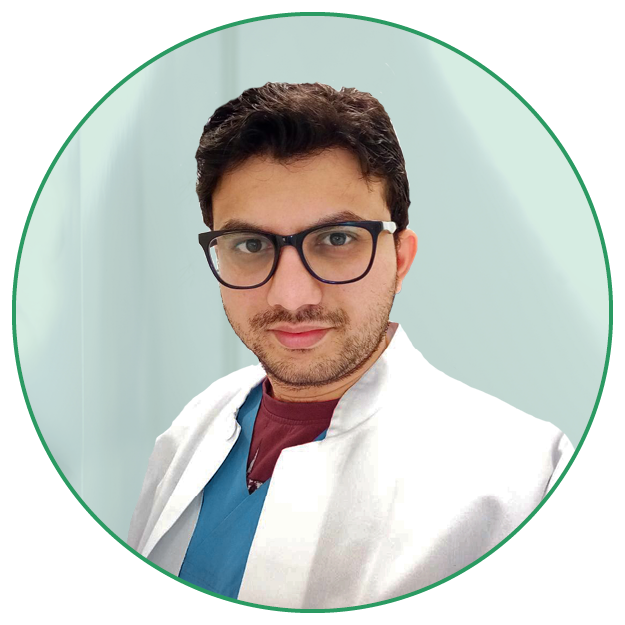 Mr. Shaik Mohammed is originally from India. There, he earned his bachelor's degree in human medicine from the Deccan College of Medical Sciences in Hyderabad in 2011. After graduation, he worked as a resident in internal medicine and emergency medicine for several years and even served as a lecturer at a medical university. Mr. Shaik Mohammed applied for his German Approbation, or professional license, in 2015.
He made it and is now working as an internal medicine resident in a hospital in Saxony-Anhalt. He is very happy with his new job. And to top it all off, he got married in Germany shortly before he was offered the job. Mr. Shaik Mohammed feels very comfortable with his family and his new residency position here.
1. Mr. Shaik Mohammed first of all congratulations on your new job and your private happiness. Why did you decide to come to Germany? What motivated you to leave your home country?
.
Mr. Mohammed: Germany has always been my first choice. It was a dream of mine to continue my residency here. Germany is world famous for its innovations, researches and new modern techniques in healthcare. That was one of the main reasons why I really wanted to work in Germany to perfect my medical knowledge.
2. Is medical education very different from German education? Or are there also similarities?
Mr. Mohammed: In India, we studied in English, so many Indian doctors also go to the US or the UK. Indian doctors do their job great, of course. There are no differences in medicine, after all. The only thing that is different is the facilities. In Germany, they are simply better equipped and more modern. And in India we hardly have any specialist positions, these are also much better covered here.
3. How would you describe your career in Germany then? Was it difficult to find a job here in the beginning?
.
Mr. Mohammed: I came to Germany at the beginning of 2014. As a third country, it was not so easy to get a foothold here and find a job. Of course, you have to master the language first and foremost. You have to be very motivated to learn German. I know some doctors from abroad who give up because they find the language too difficult. My advice: "Never give up!" Sure, it was difficult for me at first too, but you can do it if you just want to and don't give up.
Mr. Mohammed: I learned German in India up to level B1, B2 + C1 then in Germany. After a year of struggle, after many letters of application, I finally found a job in Siegen in October 2015. There I then worked for 15 months.
4. How did you then become aware of MOG?
Mr. Mohammed: I wanted to change my job. During my search, I came across MOG. Thanks to your help, I now have a job in another clinic in Saxony-Anhalt. Here I feel very comfortable. For this, I would like to thank the whole MOG team as well as my family, who has always supported me actively.
5. We are very pleased about that. I have one last question for you: there are more and more doctors from India or even from other countries who want to work in Germany. Do you have any tips for your colleagues from abroad?
.
Mr. Mohammed: Germany is always a good choice for doctors. Before coming to Germany, you should already plan a year to learn the language properly. There are many good institutes, such as the Goethe Institute. In my opinion it is also almost better to learn the Advanced language up to B2 or even C1 already in your home country. The start in Germany is then easier and it shows a lot of initiative at the German Embassy to get a visa.
.
Who wants to come to Germany, should not be deterred by the difficult language. Just don't give up and keep going! It will work!
Thank you very much, Mr. Shaik Mohammed, for your time and your interesting answers. We wish you all the best and much success for your professional and private path in Germany.
Many doctors m/f/d found their dream job in Germany with the support of MOG Ärztevermittlung.
Are you also thinking about finding a new job as a doctor m/f/d?
But you have too little time to seriously look for it?
As a physician m/f/d looking for a job that suits you, you can register in the MedicalTalentNetwork without obligation and free of charge. Your recruiting expert m/f/d will get in touch with you as soon as he/she has one or more job offers for you that match what you are looking for.
MOG Ärztevermittlung supports physicians m/f/d in finding a job in Germany. The recruiting experts m/f/d of the recruitment agency use the Germany-wide network of clinics, hospitals and rehabilitation facilities as well as many other companies in the healthcare sector to place you in a job where you feel comfortable.
This extensive network exists because MOG Ärztevermittlung is a subsidiary of MCM Media Consult Maier + Partner GmbH, which has been advising the majority of clinics in Germany as an agency for personnel marketing, recruiting and personnel placement in the healthcare sector since 1991.